Course details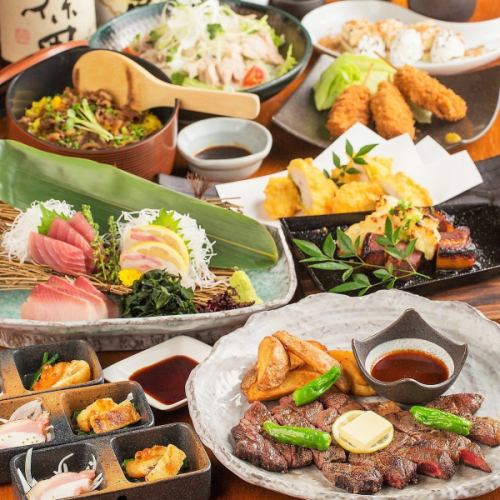 ■ Tenjya - A mana - ■ Tenryura in season, full course with dice steak 【8 hours 3900 yen with all-you-can-drink 2 hours】
By using a coupon3980 yen
Price excluding tax
8items

2

-

100persons

All-you-can-drink available

All course with drinks all-inclusive (beer type / Shochu high / whiskey type / cocktail / wine · sangria / plum wine / shochu / soft drink) included
Including all-you-can-drink for 2 hours! This is a luxurious gorgeous course with two varieties of fresh fishes of our specialty season such as dice rolls steaks and mackerel's steaks! Company banquet, welcome reception party, year-end party, new year party, celebration banquet etc. ◎ Because the seasonal ingredients are used, the content varies according to the season.
Course menu
【1 item】 Assorted two kinds of appetizers
【2 items】 Assorted seasonal seasonings 3 varieties
【3 items】 Special salad salad
【4 items】 Dice roll salmon steak ~ refreshing ponzu ponzu ~
【5 items】 Boiled mackerel
【6 items】 Two varieties of fresh fish vegetables in season
【7 items】 Mixed chicken and burdock rice
【8 items】 Sweet today
--------------------------------------------------
◆ 【Free】 All you can drink "Basic plan"
(Beer type / Shochu high / Whiskey type / Cocktail / Wine / Sangria)
(Plum wine / shochu / soft drink)
◆ 【+ 500 yen】 All you can drink "Premium plan"
(Beer / fruit wine / tomato series / sake / shochu)
--------------------------------------------------
◎ notes ◎
※ All-you-can-eat 2 hours system (LO will be 30 minutes ago)
※ Reservations for December may be subject to year-end fee.
* The contents may change depending on the purchase situation.
※ For cancellation of the number of people on the day, cancellation fee may occur, please note.
※The photograph is an image.
All-you-can-drink menu
· ★ All you can drink Basic plan ★
· This plan is included in all courses except some
· Beer based drink
· Clear Asahi / Cassisubia / Shandigafu / La France Beer
· Shochu high
· Plain Shochu High / Lemon Shochu High / Lime Shochu High / Orange Shochu High / Grapefruit Shochu High / Acerola Shochu High / Calpis Shochu High / La France Shochu High / Oolong Hi / Jasmine High
· Whiskey type
· Black Nikka (water split · high ball) / cola high ball / ginger high ball / lemon squash high ball / Jack Daniel (water split · high ball)
·Cocktail
· Cassis orange / cassis soda / cassis oolong / cassis tonic / fuzzy navel / peach soda / reggae punch / peach tonic / lychee orange / lycheesa / lychee oolong / lychee tonic
· Gin Tonic / Jim Buck / Orange Blossom / Moscow Zoo / Vodka Tonic / Screwdriver / Shandogaf, Kiel / Kitty / Operator
· Wine · Sangria
· Almaden (Red · White) / Vigna Albali (Red · White) / Red Ginger / White Tonic
·Plum wine
· Tenderness plum wine
· Shochu
· (Potato) and carrot / (wheat) and
·Soft drink
· Pepsi · Cola / Ginger Ale / Tonic Water / Orange Juice / Grapefruit Juice / Lemon Squash / Acerola Juice or Soda / Calpis Juice or Soda / La France Calpis Juice or Soda / Oolong Tea / Jasmine Tea
· ★ All you can drink premium plan ★
· Basic + Premium plan can be used at +500 yen for each course
·beer
·Asahi Superdry
·non-alcoholic beer
· Dry zero
·Fruit wine
· Brown sugar plum wine / Akegoshimo sake / Alaska yuzu
· Tomato series
· Red Eye / Tomato Shochu High / 100% Tomato Juice / Tomato Orange / Tomato Nick
·Sake
· Cold chill / hot heat / samurai lock / samurai highball
· Shochu
· (Potato) Black Kirishima / (wheat) Nikaido / (Kanaka) lychee
Available days for reservation

Monday - Sunday - Public holidays - Holidays
2018/12/12 update